This weekend was a weekend I've been looking forward to since going back to school. At the end of the summer, it was so hard to say goodbye to the people I'd spent my entire summer with, especially knowing we were all going to different places across the country from each other and that it would be months before we'd see each other again. This weekend was the weekend that we would finally all be reunited. And that was only part of the reason why this would be a special weekend. There were so many amazing things happening this weekend it was hard to know what to look forward to the most.

As luck would have it (actually I have no doubt that it had nothing to do with luck and everything to do with this weekend being meant to be), I didn't have classes Friday so I was able to fly home Thursday night and begin preparing for the weekend ahead.
The first event was Friday night at my high school homecoming game. Last year, Anna was crowned Homecoming Queen for our high school. Tradition serves that last years queen crowns the new queen every year. This year, our high school asked me if I would do the honor of crowning the queen in Anna's memory. To say I was honored would be an understatement. I had hoped, knowing this tradition, that they would at least honor Anna in some way but I had never anticipated being asked to be involved. Of course, every part of me wished that I was there watching her do it herself, but it meant a lot to me that they asked me to do it in her memory. I know Anna was proud. The girl that won told me she really felt Anna's presence through me, and that meant so much to me that I can help carry on Anna's spirit.
By Friday night 4 of Anna's friends were in town and amazing reunions were had. I really didn't realize how much I missed them until I realized how happy I was being back with them. These people are my favorite people, but that is a whole other blog post in itself. The best part was it felt like we had never left each other. It felt so normal and so right to be back at my house hanging out like we did all summer.
Saturday was an early day but for an awesome reason. Children's Hospital, where Anna was treated, holds a Red Balloon Race every year. One of Anna's classmates started "Team Float On" in Anna's honor, so we all went to support the team. It was really amazing to see all the people who came out to honor Anna.
Our team tent was definitely the best looking one out there!
Me and the friends of Anna's who had arrived so far.
By Saturday night, everyone was finally back together! My cousin Becca came in for the weekend and the rest of Anna's friends had arrived.
The entire weekend just being together with so many of my favorite people was obviously fantastic, but Sunday was possibly the best day ever. Anna's favorite band was
Manchester Orchestra.
On the last good night of her life, after high school graduation, she went to see them in concert, got brought up on stage and
serenaded
by the lead singer. The look on her face when she got home that night was one of pure joy; she could not stop gushing about how nice they were, how amazing everything was, and how they invited her to Lollapalooza. She even joked that she and Andy were getting married (never mind that he's already married!). She thought the world of the band, and the feeling was mutual. They were so touched by meeting Anna they came out to play a few songs privately for her friends and family after her memorial service this summer. Since then, we have kept in touch with them and established a really great relationship with them.
This weekend, they were playing in Dallas, so of course we got tickets. However, not only did we get tickets to go to the show, but we invited the whole band to our house to hang out for awhile. There are no words to describe how awesome this was. Not only were we partying with rock stars, but the coolest, nicest, most down to earth rock stars you will ever meet in your life. They were genuinely so grateful to us for having them over, and they really made an effort to get to know all of us. One moment that really stuck out to me was when a few of Anna's friends and I were talking to their drummer, Tim, and he was recalling meeting Anna and how much it changed him. He talked about how she has completely changed all of their lives and the direction their band wants to take. "I have a picture of her up on the fridge," he told us, "and I look at it everyday and think about her." Amazing proof of what an impact Anna had on so many people. As if that wasn't enough, he also went around and asked each of us to share how we knew Anna. He genuinely wanted to know how each one of us had been a part of Anna's life. Simply unbelievable and truly amazing is the only way I can think to sum it up.
The group with the band
Except it gets better. After spending the day getting to know this awesome band, we went to see them play that night. I will admit that up until about a week ago, I was only a Manchester Orchestra fan in theory. I knew a few songs, but most of those were the songs Andy played after Anna's memorial. But thanks to a friend (shout out, Zach), I sought out more of their music and researched what they'd been playing on tour lately. It would have been an amazing concert regardless if I had ever heard any of the songs before, but after listening to the Manchester Orchestra playlist I created every day for the last week or so, I was easily singing along to almost every song. Pretty impressive, I'd say, for someone who used to tell Anna to listen to "good music" when she'd play bands like Manchester Orchestra. I have no doubt that she was so proud of me during that concert. It may seem like a small thing to say she has changed me because I enjoy her type of music now, but it is just one more way in which she has influenced me and everyone else who knew her.
To say the concert was amazing would be an understatement. Hands down the best concert I've ever been to is more like it. What is even more amazing, though is that they invited us to come hangout with them backstage after the show. As we were leaving, I had a conversation with two of the band members that I will never forget. "I don't think you know how much you mean to Anna's friends and family," one of her friends told them. I will never forget their response. "If anything," they told us, "It is the other way around. You all mean so much to us and Anna truly changed our lives and we are forever grateful." Simply amazing how much she changed their lives after only meeting them once.
2 of Anna's best friends, our cousin and I with the most amazing band ever.
It was impossible to go through this weekend and especially Sunday night with the band without thinking about Anna and how she is the reason for all of this. It truly makes me believe in the phrase I once hated; "everything happens for a reason". There was a reason Anna was healthy enough to make it to that concert that night, even though her health declined rapidly after that. There was a reason that she met the band. I've always said her purpose in life was to change lives. It was clearer than ever this weekend to see how she did that. Not only did she change her friends and family, but millions of other people including this amazing band who will continue to change people because of her. There is nothing that can replace her or take away the pain of losing her, but it sure does it make you think twice about being sad about it. I am so thankful that my eyes have been opened to see her purpose and how even almost 6 months after she passed away, her legacy of changing lives carries on.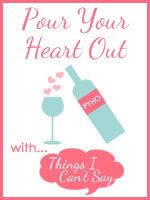 I'm linking up with Pour Your Heart Out at Things I Can't Say.